Alice Angus
Alice Angus's work combines public art, works on paper and in textiles. She also is Co-Director of arts organisation Proboscis (with Giles Lane), and combines her work on independent projects with work on larger scale collaborative projects with Proboscis, that include public artworks, academic research, arts and community commissions with partners that include industry, government, academia, cultural organisations and communities. She is interested in the physical, technological, natural and social history, human stories and folklore that are bound up in places.  She has worked with researchers, archives and collections and in collaboration with academics, social and physical scientists, artists, local people and communities.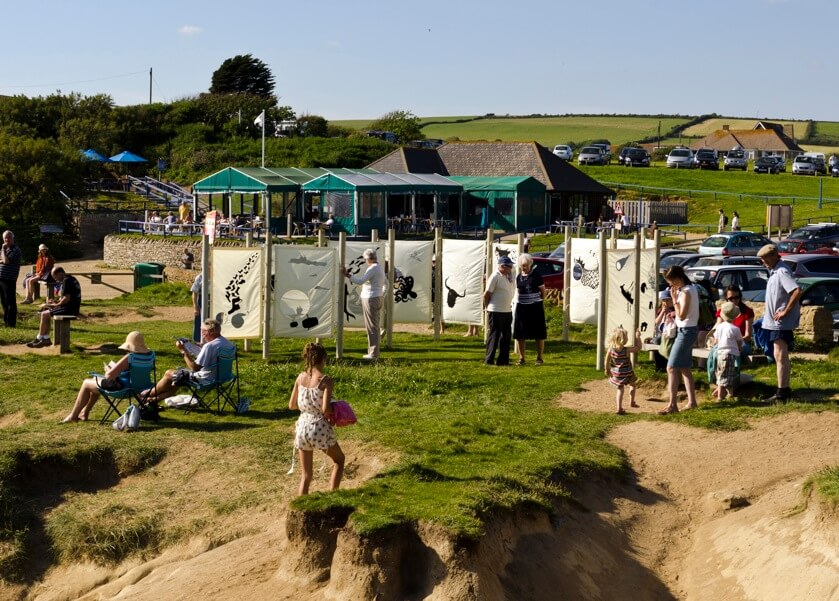 A lot of my work is about the way people are formed by, and form, landscapes and environments; of both the physical world and the technological world of data and communications. I spend a lot of time to chatting with people. This is because Im a strong believer that places, though they might appear to be uninhabited, 'a wilderness', an urban 'wasteland',  or neutral, are almost always related to a community somewhere.
A lot of my work is in response to a site or a place. I like to get rooted into understanding the place, the people, the rhythms of life and wildlife that inhabit that place and, the stories that make it what it is. Sketching and drawing from life are a big part of my work – it forces me to sit in one place in any kind of weather in all kinds of environments from beaches to rubbish tips. Things happen around you as you stay in one place, you see domestic life, wildlife, industry, infrastructures, and people stop to talk to you. You start to see the rhythms of daily life, bigger rhythms like the moon and tide or man made processes of destruction, construction and reclaimation. Working outside often feels very immediate, I feel I have to respond to things changing or moving.
In collaboration with Prof Lizzie Coles Kemp at (Royal Holloway University of London) she is currently creating a series of drawings exploring the impact of data security on communities. At the same time she is beginning a new series of work a focusing on the relationships between migrations and movements of wildlife, chemicals and plastics, and how people and communities adapt, and tackle these things and to preserve their environment and culture.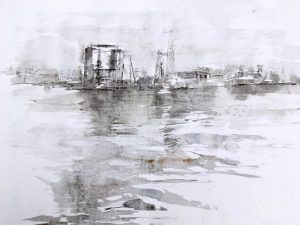 Many of her projects have been concerned with the human relationships to land and urban spaces. She has a long held interest in environment and landscape, and between 2003 and 2010 undertook several residencies and commissions in Canada and the Canadian Arctic, exploring issues of landscape, community, language, ownership and belonging.  She was Artist in Residence on Lymington and Keyhaven Saltmarshes as part of the Observatory Look In Look Out project (2015) investigating how the oral stories, experiences, folklore, environmental knowledge might merge with data and scientific knowledge and mapping.  Storyweir (2012) (commissioned by Exlab2012 with the National Trust Dorset) was a series of public artworks inspired by the relationships between the geological processes and human life on the Jurassic coast.
Others projects have taken her into unusual arenas looking at the impact of technology, working with prisoners' families or research into early women cyclists,  but what ties them together is her continuing interest in the role of environment, community, landscape and technology. Recently she illustrated the Unbias Awareness Cards and the Fairness Toolkit (2018 by Proboscis), a project asking questions about trust, bias and fairness in algorythms. She was an Artist In Residence with the Mixed Reality Lab (School of Computing, Nottingham University) working on their Artcodes pattern recognition technology, incorporating illustrated codes into textiles and other objects.  Other projects include Freedom of Movement (2014) where she was commissioned by Dr Kat Jungnickel to create a series of illustrated textiles based on the experiences of early women cyclists. For Hidden Families (2012) by Royal Holloway University, she worked with communities and academics to draw together and create textile works exploring the experiences and significant difficulties facing families separated by prison.
Summary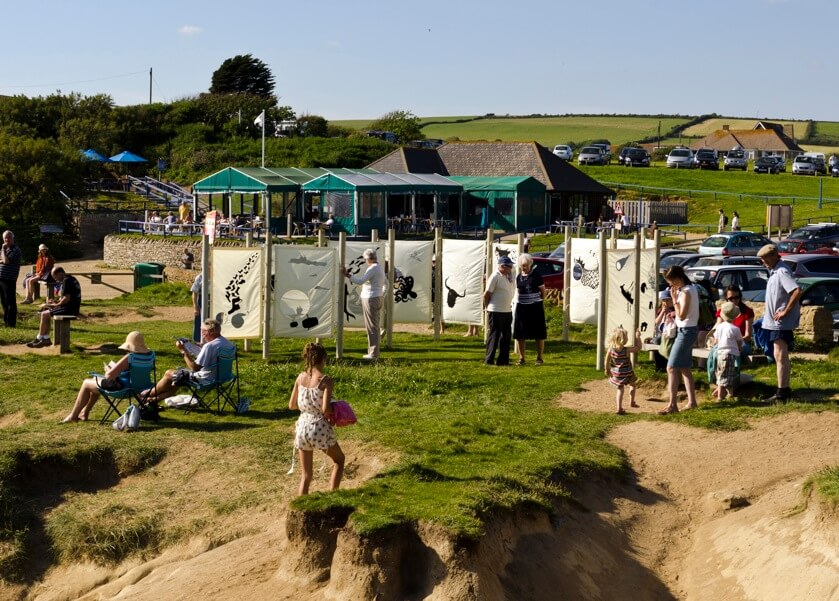 Article Name
Author
Publisher Name
https://distillersart.com/
Publisher Logo