Nichol Wheatley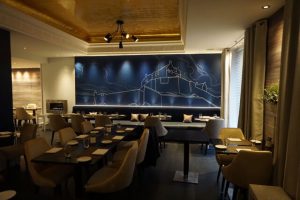 Nichol's artistic career has been a series of leaps in the dark in unconventional directions. Born into a family of lawyers and politicians in 1971 (his great uncle, John Wheatley, was Minister of Health in the first Labour government, his grandfather was Lord Justice Clerk), he bypassed the obvious career paths to study at Glasgow School of Art, a move that had been predicted by his art teacher when he was just 8.
"From the moment I stepped into the Art School until the moment I stepped out, I utterly loved that building", he remembers. "Loved being in it. Loved the quality of light in the studio. Just loved it." However, his artistic training would not be what he'd hoped. "I think I'd gone expecting to be taught how to be a painter," he smiles, "whereas they were interested in teaching you how to be an artist. I was interested in making paintings; as I get older I realise it's my fundamental interest. The way it felt at the time, I kept coming up against teachers who were keen to see conceptual artists – which is utterly not what I am. But good artists came out of my year – so maybe it was my fault."
Despite his frustrations, his degree show sold out. It was the last time he'd call himself 'an artist' for over a decade. "I felt that I was on completely the wrong path," he frowns. "If my show hadn't sold, I may well have never gone back to painting at all". It seems an unlikely prospect. Jobs followed as barman, bouncer, chef and blacksmith, but Nichol never stopped drawing. "If I had an idea that I liked, I had to know how to make it. Oil paint, stonework, tiles; there just wasn't a boundary. I wanted to learn. And I loved working in a team; the blacksmithing gave me that. You felt you'd done an honest day's work."
It was while labouring on a building site in 1998, that Nichol overheard the owner and designer of the project discussing their plans. "They asked me to stop drilling so they could talk," he says. "They wanted a curved wall – a huge, gentle curve with a painting of a bullfight on it – but they couldn't work out how to do it. So I offered to help. I mean, I knew that I could do it, it's just at that moment I didn't know how."
The solution was a canvas on a curved frame, painted in situ. The client was delighted – so delighted, in fact, that they extended his commission to include four bathrooms, the floor, the stairs and the building's exterior. "That was in smashed tile mosaic – all of it. I'd never done that either. And then they wanted murals for the basement restaurant in the style of Matisse. I just loved doing it. And that's when I realised I could get paid to learn."
What emerged out of this experience was Perfect Circle Art. Named after Giotto's rumoured ability to draw a perfect circle freehand, the company worked on a renaissance studio principle. If a project seemed impossible, he'd work out how to solve it. "It didn't just have to work as an image though; it had to work in the unique conditions of the space, taking account of environmental factors as well as the brief. And it had to last too."
A persistent interest in science was a valuable asset. Chemical tests on paint were part of studio life. "And I just kept on learning. We all did it together. I'd go to the Art School every year for the degree show, and pick out good students. They'd learn to be working artists – all of it – technique, responding to a brief, solving problems of the space. And of course clients all work to a budget, so that was another thing. How can they get what they want within constraints of price?"
Perfect Circle grew quickly. What started out as a room in his Hillhead flat moved into rented premises in Partick. "I wanted somewhere where I could control the light. My flat was great, it had huge north facing windows, but as we grew it just wasn't practical. We rented first, and then bought a big studio in Maryhill. We needed a flexible space where the light was perfect." So he took off the roof and replaced it with glass.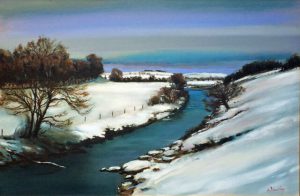 "That was a great place," he recalls. "I wanted to see if we could have synergistic businesses supporting each other; if it could work out financially. So it was Perfect Circle, Strange Frames – we framed our own pictures to save costs – and The Maryhill Art School. That last one was important. It was me, Cynthia Bowles and Martin McInally teaching technical skills and approach. Art is a trade, and it calls for hard graft. And the name reflected that. We didn't want to make a fuss. We just wanted it to be what it said on the tin."
The client list he boasts now is extremely diverse. Nichol creates artworks for film and TV, provides worldwide consultancy, and works with designers and architects on a broad range of projects. "It could be pub interiors, or the home of a premiership footballer. If the client wants privacy, we can cater for that." He has signed confidentiality clauses for jobs that would have seen his profile rocket. "A great deal of the work I make is commissioned which requires a lot of trust between the client and the artist. That is fundamental to what I do."
It is this trust that helps him pull off complex jobs. When The Blue Nile's Paul Buchanan was asked to design Kelvinbridge station, Nichol offered valuable assistance. "That was an interesting one because Paul's a musician. And to translate that visually is very complicated. He had to believe that I'd help him deliver, and I knew that he could. He had fabulous ideas. We were out of our comfort zones – both of us – and that's a great place to be. It pushes your boundaries."
Nichol was delighted to do his first two commissions for the spirit of art. "Landscape painting is increasingly important to me and it's an honour to do two paintings that link to whiskies that I love."
Summary
Article Name
Author
Publisher Name
https://distillersart.com/
Publisher Logo