Spirit of Art is an extraordinary whisky and art collaboration from Scottish drinks and arts business, The Distillers' Art, pairing whisky with a commissioned piece of art inspired by the place the dram was created.
The whisky and art are very much partners in this unique experience. One does not work without the other. While The Distillers' Art CEO and drinks industry veteran George Thomson personally seeks out remarkable casks to be bottled, renowned Scottish artist Nichol Wheatley has been finding the artists to bring the whiskies from Cask to Canvas.
Nichol's search has been a fascinating one for the Spirit of Art range, as some of Scotland's most exciting artistic talent with a strong connection to the place of a whisky's origins have been commissioned to create an original piece of art.
"It has been wonderful working with the art community and commissioning works of art inspired by a drink I love," said Nichol. "The making of whisky is a true art in itself and the distilleries and their geographies provide a perfect backdrop for the canvasand bonding over a connection to whisky and the place it was created. The talent and passion from each of the artists has been a pleasure to be involved in."
So, who are the whisky enthused artists capturing the essence of each Spirit of Art's commissioned bottlings?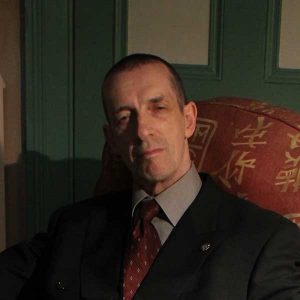 A Scottish artist with a close bond to his home country and its spectacular landscape, Frank McNab is a graduate of Glasgow School of Art. As well as being stirred by his surroundings, Frank's other main source of inspiration is literature and poetry and has been commissioned to produce work based on many greats, from Tennyson to Burns. Frank's art has been seen on album covers, book covers and has paintings featured in collections across the world.
When Frank was asked by The Distillers' Art if there was a whisky that might inspire a painting, his thoughts immediately turned to Craigellachie, a classic single malt distilled in the heart of Speyside. Here, he created 'The Bridge at Craigellachie'.
"My reasons might not be immediately obvious as I've long associated the whisky with the eponymous bridge at Craigellachie," Frank explained. "It was built by Thomas Telford in 1814 and is singularly elegant. I've long admired it and it was a delight to head north to whisky country to draw and paint it. I hope that you enjoy the view with a glass of Craigellachie in your hand."
An artist who combines public art, works on paper and in textiles, Alice Angus is Co-Director of arts organisation Proboscis. With an interest in social, cultural, natural histories and heritage of places, and a particular interest in landscape and environment, working with The Distillers' Art has been a natural collaboration for Alice.
Alice was drawn to paint Clynelish, a distillery nestled in the valley just outside the Highland coastal town of Brora, and created the beautiful 'Greylags over East Clyne' to pair with the special Clynelish bottling from Spirit of Art.
"I went to Brora just after a big storm in February," Alice described. "I spent the bright, freezing daylight hours outside from dawn to dusk, watching, listening and drawing until ice froze the paint. I was drawn to Clynelish on the north east coast because of the combination of people, history, landscape and wildlife.
"As I sat there all kinds life was going on. I was struck by the magnificent skein of Greylag Geese that came honking and barking in from the coast, loudly announcing their arrival, flying low over the flat coastal plain of dykes, ditches and fields, sunlit against the wall of snow dusted mountains. They headed towards the gleaming, puffing distillery, nestled at the base of the hills from where the Clynemilton burn brings its golden water to make the whisky."
Once a guitarist in Scottish pop band The Big Dish, Brian McFie is a visual artist. A Fine Art graduate from Glasgow School of Art, Brian's paintings demonstrate a huge range of techniques from figurative to abstract and he is inspired by the landscape surrounding him in Scotland, from his home in the South side of Glasgow to the Scottish islands.
For his commission from The Distillers' Art, Brian created 'Caol Isla', a vibrant depiction of the peat smoke and green pastures seen at Caol Iladistillery in Islay, across the water from Jura.
"I've always liked the sound of Jura," said Brian. "Walking north from port Askaig ferry, you walk along the foreshore in front of the Caol Ila distillery. The view back toward the distillery and the port is always lovely"
Another Glasgow School of Art alumnus, Stuart Buchanan is a painter working in the village of Catterline in the North East of Scotland. He is known for his peaceful depictions of solitary characters and silent couples for which viewers can escape the challenges of the outside world.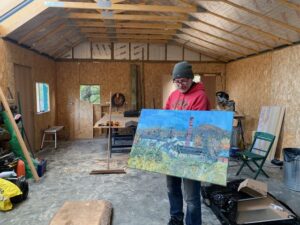 Experimenting more recently with thick visceral paint, Stuart paints intimate landscapes, usually in one long session. He was familiar with Knockdhu Distillery, the home of internationally renowned whisky brand anCnoc, having passed it and admired the landscape many times. His commissioned painting to pair with the single malt from anCnoc, named 'Autumn morning Knockdhu', depicts the distillery as the leaves are turning.
"I went up on a fine autumn day in late October and tried to catch the essence of the place in one sitting" Stuart explained. It's a lovely distillery and has been wonderful bringing the distillery to life on canvas. There's a lovely road that goes past it between Huntly and Portsoy on the Moray coast. I'm looking forward to heading back there again soon."
As well as commissioning other talent to create original art inspired by the Spirit of Artwhiskies, Nichol has created an original piece of art himself for two of the drams – both whiskies he feels an affinity with.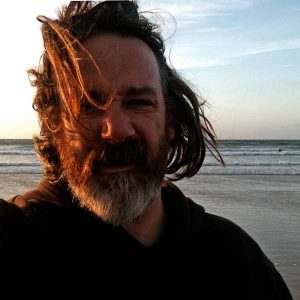 Born into a family of lawyers and politicians, Nichol bypassed the obvious familial career paths to study at Glasgow School of Art. He then moved away from art, working in a range of jobs, from a bouncer to a stonemason, before setting up Perfect Circle Art, a commercial fine art company. In 2016 he staged his first show of paintings and is known for his large cycle of murals depicting the tale of Tam o'Shanter by Robert Burns and his collaboration with the late Alasdair Gray.
Nichol was inspired to create original pieces of art for two of Spirit of Art's whiskies. The first, 'On the way to Linkwood'near Linkwood distillery, is a landscape study of the river Spey. "Linkwood always reminds me of Speyside," said Nichol. "I think about the bend of the river between Aberlour and Craigellachie. It's amazing how a whisky can take you to a place. It's like magic teleportation."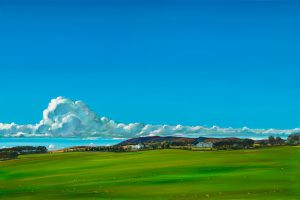 The second commission was a piece of art inspired by Benrinnes distillery. The work is called 'Ben Rinnes Hill'and depicts the distillery itself with the hill looming in the distance. Nichol said: "I've always liked Ben Rinnes Hill and I've always liked Benrinnes whisky when I've been able to find it. The smell of it always has something that reminds me of spring. I was up there earlier in the year sketching, which is where this image comes from."