The Scottish drinks and arts business which pairs the finest single malt whisky with originally commissioned art has partnered with a global whisky brand to create a limited-edition bottling and art commission.
Spirit of Art
is an extraordinary whisky and art collaboration from Scottish drinks and arts business,
The Distillers' Art
, pairing whisky with a commissioned piece of art inspired by the place the dram was created. In an exciting move,
Spirit of Art
has partnered with internationally renowned Scotch whisky brand anCnoc to create a unique limited-edition bottling containing a limited-edition signed print from acclaimed Scottish artist, Stuart Buchanan, for whisky and art lovers to experience.anCnoc is distilled at Knockdhu Distillery deep in rural Aberdeenshire. As one of Scotland's oldest distilleries where many traditional methods are retained, the distinctive dram, location, and history of the land meant there was a clear connection between the
Spirit of Art
concept and the anCnoc brand's origins and story.
George Thomson, CEO and Whisky Curator at The Distillers' Art, said:
"We are delighted to have had the opportunity to collaborate with anCnoc and the exceptional team at Knockdhu Distillery to create this limited-edition Spirit of Art bottling and signed print from Stuart Buchanan. We take pride in seeking out unique Cask and Canvas collaborations that can take our customers on a sensory journey through a fine single malt and the art it inspires. We hope many people will enjoy the experience of our anCnoc bottling and print."
As well as the anCnoc collaboration, there are currently five other limited-edition whisky and art pairings from Spirit of Art including Craigellachie, Clynelish, Linkwood, Benrinnes and Caol Ila.
While Knockdhu Distillery Manager, Gordon Bruce, hand-picked the cask for the collaboration, local artist and Glasgow School of Art alumnus, Stuart Buchanan, was commissioned to capture the home of anCnoc. The end result has been a remarkable pairing of two much loved past-times, which Gordon Bruce has been delighted to help bring to life. Gordon said: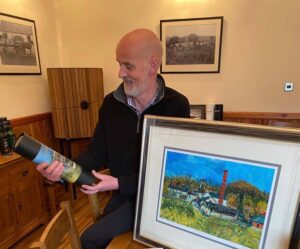 "Congratulations to the team at The Distillers' Art. The bringing together of a limited-edition anCnoc cask from Knockdhu Distillery and an original commissioned piece of art depicting the place where we create our whisky, is pretty spectacular. I'm really taken with the vibrancy of the painting which has not only captured the essence of the region but the character of the whisky too. It has been a pleasure to come together for this unique collaboration."
While the anCnoc single malt captures floral grassiness on the nose, spicy fruit cake with cinnamon and vanilla on the palate and ending with a long finish, Stuart Buchanan has depicted the essence of the place this deeply sensory whisky experience has been created.
Stuart, who lives in the north-east, was familiar with Knockdhu Distillery having passed it and admired the landscape many times. The painting, named 'Autumn morning Knockdhu', depicts the distillery as the leaves are turning. Stuart explained:
"I went up on a fine autumn day in late October and tried to catch the essence of the place in one sitting. It's a lovely distillery. There's a lovely road that goes past it between Huntly and Portsoy on the Moray coast. I'm looking forward to heading back there again soon."
For more information on the anCnoc Spirit of Art limited-edition bottling and print, visit https://distillersart.com/product/ancnoc/