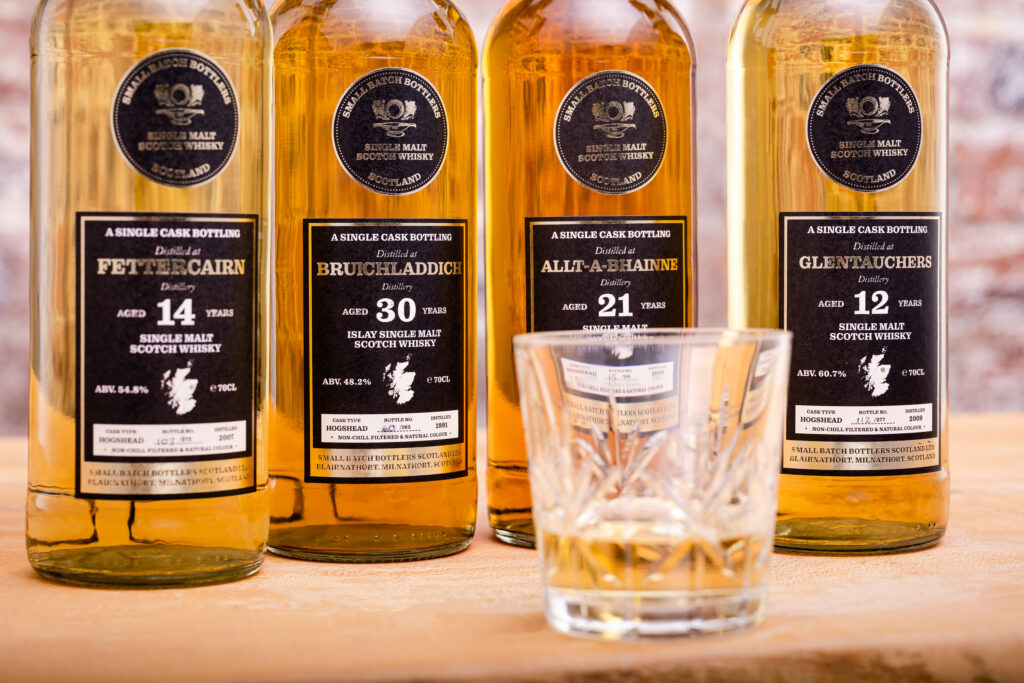 Perthshire drinks and arts business The Distillers' Art has launched four new single malt bottlings to add to their Small Batch Bottlers Scotland range.
Small Batch is the independent cask bottling arm of The Distillers' Art, where high quality single casks are selected to be bottled unchillfiltered and at cask strength.
Each carefully chosen with the "ultimate whisky connoisseur" in mind, the four new additions to the range include cask strength bottlings from Allt-A-Bhainne, Glentauchers, Bruichladdich and Fettercairn.
The casks were selected by The Distillers' Art's CEO and Whisky Curator George Thomson who has used his decades of whisky expertise to hand-pick outstanding and highly collectable limited-edition single cask bottlings for the Small Batch range.
"The beauty of our Small Batch range is that it's always evolving with new single malts to try with every new single cask," says George. "These individual whiskies are some of the most incredible drams I've ever tasted. When you're tasting them singularly, on their own and you're giving them what they deserve by sitting and enjoying them, they are simply stunning. These are perfect for the ultimate whisky connoisseur but will have universal appeal to all who enjoy a great dram."
George discovered Allt-A-Bhainne, a "spectacular" 21-year-old single malt which offers a heady combination of sweet fruitiness, hints of peat and biscuit flavours.
Another Speyside single malt amongst the new additions to Small Batch is Glentauchers. A 12-year-old single cask bottling, Glentauchers is fiery on the nose and sweet on the palate and one that George describes as having "a well-balanced sweetness."
Fettercairn is the only Highland single malt in the new releases. A 14-year-old single malt distilled just north of Dundee, Fettercairn has oaks on the nose with a zingy sweetness on the palate and a "pepperiness" that George says gives it a distinctive character that makes it stand out from other Speysides.
Bruichladdich is a stunning 30-year-old single malt from Islay which has hints of the sea wafting through. Described as "elegant" by George, the Bruichladdich has been stretched beautifully by its age with hints of saltiness on the nose and sweet fruitiness on the palate.
Each of these new additions to the Small Batch Bottlers Scotland range are available to purchase online by visiting our virtual shop.